What Are We doing?
"To live in the present tense is a failure to be prepared for the future tense."
We knew when we started our church a little over 5 years ago we knew one day we would have to prepare for our future. Since the existence of our church we have worshipped in six different locations.
Currently, we are renting space in our current facility in which the owners are desperately trying to sell. We are either looking to purchase this property in which we would be able to rent space for our community while generating more revenue which would help accelerate the vision at Crossover Church or we will take the necessary funds from our campaign so we will begin to make plans for the future location of Crossover Church.
Why Are We Investing in This?
We are excited about what God is doing in and through us but we know that there is more for us to experience and accomplish. Our church's vision is for people to know God, find freedom, discover purpose and make a difference and by investing in this kingdom project we will be able to accomplish our vision for the future.
Create stability in our church which will help us become more effective in reaching our community
Create age appropriate spaces which will help facilitate the growing needs of young families
Have the necessary learning environments to teach people about their faith so they will be able to become a passionate follower of Jesus in their homes, marketplace and community.
Be able to expand our Crossover University classes in which we will continue to help students enrich their theological understanding while equipping them for their future ministry endeavors
Partner with parents, schools and the community to provide mentorship and compassionary ministry for those in need.
How will it change things?
We currently do not have any assurance that we can continue to meet in our current location unless we purchase it from the owners. As a result, it has limited our growth and ability to provide ministry opportunities in our church and community due to uncertainty.
As we move from a starting church to a sustaining church it is important for us to plant our flag in a particular community so we can help rebuild, repair and restore our community. If we do not begin planning for a future we are at a high risk of moving to another location with no sense of direction or assurance of the outcome.
With God's leading, we can determine the destiny of our church instead of having to make a quick decision due to us having to relocate again.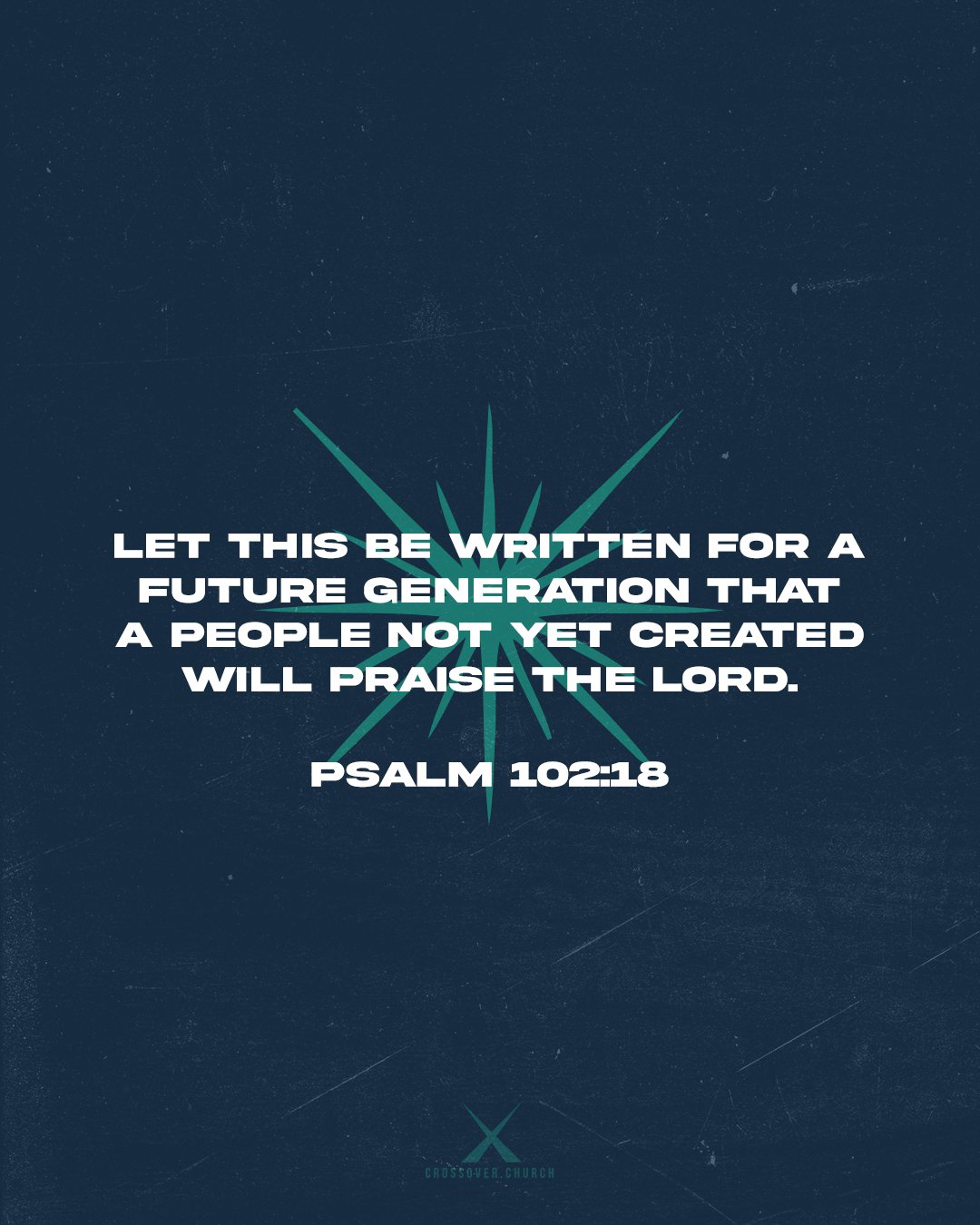 Frequently Asked Questions
Is Our Church Growing?
Yes, in very exciting ways. While many churches in America are on the decline due to current church metrics, we are not only growing in our attendance but also our volunteer, small group participation and community involvement. Our kids ministry is growing at a pace in which we need more space and to facilitate all the different ages that come to our church.
In the future, we plan to provide weekday opportunities for our youth to continue to grow in their faith. We have also partnered with Moody Bible Institute and have created a licensed school in our local church which will equip students for future ministry opportunities. We continue to create scalable ministry endeavors which helps us reach our mission of growing people into passionate followers of Jesus.
How did we arrive at the decision to have a capital campaign?
Our vision at Crossover Church is for people to know God, find freedom, discover purpose and make a difference. In order for a vision to become a reality, we need a dedicated space in which can facilitate all of our growing ministries so we can grow people into passionate followers of Jesus.Our goal since the beginning of our church has been to provide a space in which we can use at our own discretion by our church members and to impact our community.
After five years of moving to various locations, our board and advisors truly believe God is leading us into a building that will meet the growing needs of our congregation and community within the scope of our operating budget.
Since the beginning of the church, our finances have continued to increase due to the faithfulness of our members which have placed us in a position to have options in regards to our current building or another building in the city of Southfield. We are preparing for what is next and believe that time is of the essence.
How will I know what to give? What amount is appropriate?
This is between you and God (and your spouse if you are married). Our campaign is a time of self-reflection and prayer as we ask God," how can I reflect my commitment to You through my giving and living?" Our next few months can be a time of remembrance and gratitude as we each think back over God's faithfulness to us as individuals and a church.
As we consider ways to rearrange or rethink our spending or the use of accumulated assets, it becomes a spiritual journey. At the same time, we can respond in gratitude. We can also remember the truth that it all belongs to God anyway.
What if we do not reach our target amount in two year pledges?
First, it is our firm belief that we will meet our target- perhaps we can exceed it. In the event we do not, we will decide as a congregation how to best utilize the funds, keeping in mind the priorities that have been decided on by the congregation and the leadership. The financial strength and stability of the church always receives the highest consideration in planning for how to proceed.
Campaign Giving Matrix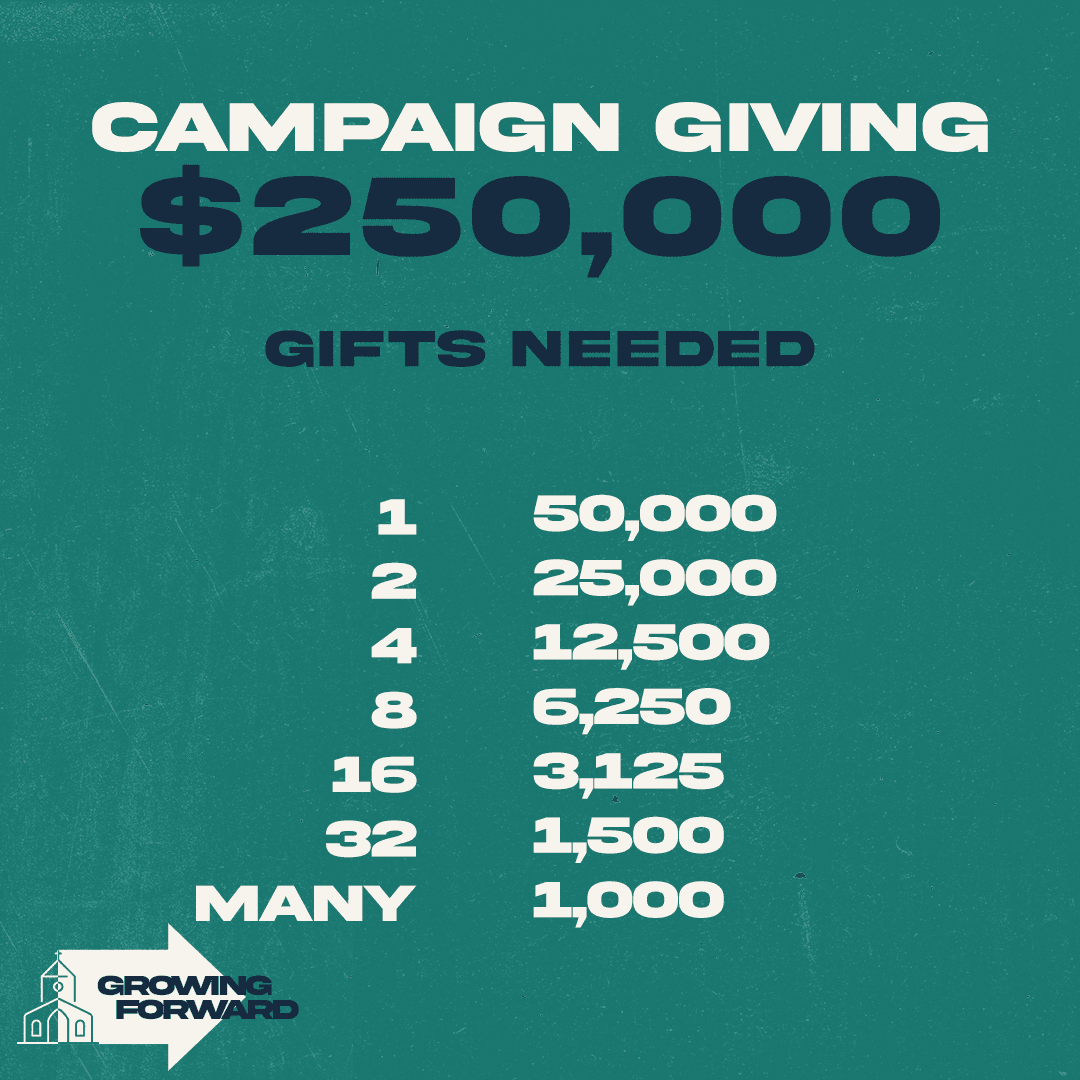 Growing Forward Giving Chart